Why We Choose to Serve Mooresville, NC
When Sam and Emily Burbach opened SpeedyShades in 2012, we didn't plan to make Mooresville our center of operations. Originally our window treatment company served Central Florida, but after a visit to this vibrant city, we knew we would relocate. Now both SpeedyShades and the Burbach family are proud to call Mooresville home and love being involved in the local community. SpeedyShades is a family-owned business, and we have put our heart and soul into providing Mooresville with the best window treatments and top-quality customer service. The city and people of Mooresville are kind, vibrant and deserve only the best. Customers who walk into the SpeedyShade showroom on Marketplace Avenue become part of our family. We couldn't imagine doing business anywhere else.
The Best Window Treatments in Mooresville, NC
If you are looking for window treatments in Mooresville, North Carolina, there is no better place to visit than SpeedyShades. We pride ourselves on the diversity of products we offer, with window treatments from six incredible brands. Our selection covers every style of window covering, including horizontal blinds, vertical blinds, Roman shades, roller shades, solar shades, shutters, woven wood shades, cellular shades, pleated shades, sheers, drapery, and exterior screen shades.
With such a vast number of options, we guarantee you will find something you will fall in love with. Our expert team knows each product intimately and will be able to recommend the best fit for your home. To find out more about our products, you can request a free in-home consultation or call us at (980) 689-0808 to schedule a visit to our showroom. Our window treatment showroom is located at 132 Marketplace Avenue, Mooresville, NC, 28117, and is open 10 am to 3 pm Monday thru Friday and 10 am to 2 pm on Saturday. We're open Sunday by appointment only.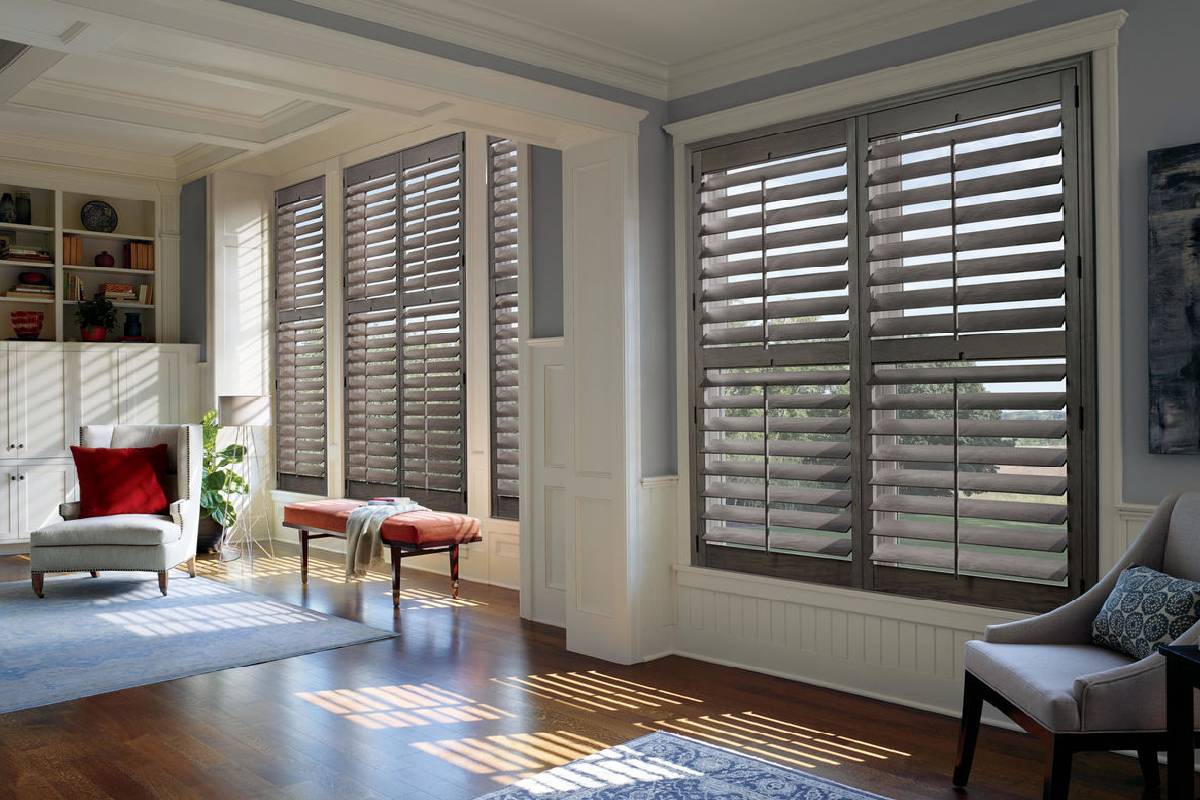 When you come to our showroom, our team members can do more than tell you about all our window treatments; They can also show them in action. You can operate each blind, shutter, shade, and drapery we offer. You also have a chance to see and touch all the material options to find the perfect look and feel for your home. Once you decide on your materials and style, we will build your ideal window treatment.
If you have instead chosen to schedule an in-home consultation, we will bring our showroom to YOU. This means that you still have an opportunity to see and test all our window treatments, but you can do it all from the comfort of your home. This allows you to see all the window treatments and fabrics where you will use them to ensure they match your lighting and decor needs.
Frequently Asked Questions about SpeedyShades in Mooresville, NC
What Window Treatment Brands Do You Offer?
At SpeedyShades, we have chosen to work with six amazing window covering brands, Hunter Douglas, Comfortex, ALTA Window Fashions, Norman®, Fenetex®, and Somfy®. Each brand is known for its quality products and has different specialties. Our team knows each brand's strengths and weaknesses and can help you decide which option is right for you.
What If I Don't Know What I Want?
If you are unsure which window treatment style is right for you, our design team is ready to help you. We will get to know your sense of style, your lighting needs, and the size, shape, and location of your windows. With that information, our team will make suggestions and go over options until you find the perfect window covering.
Do You Have Options for Uniquely Shaped Windows?
We offer several options that fit uniquely shaped windows. Our honeycomb shades and shutters can fit and function in many window shapes, including arches, sunbursts, circles, ovals, hexagons, octagons, and more.
Do You Install Window Treatments?
Yes, we do. When you purchase a window treatment from SpeedyShades, we will ensure your blinds, shutters, shades, and drapes are all properly installed. Our installation team will work with your schedule, ensure the coverings are functioning correctly, and leave your space as neat and clean as it was when they arrived.
Do You Have Automatic Shades?
Yes, we offer several motorized and automatic window treatment options. With automated blinds, shutters, and shades, you never have to worry about harmful UV rays. Our systems work with every style of window covering and can be operated easily from anywhere in the world.
Contact Us About Window Treatments in Mooresville, NC
As you can see, at SpeedyShades, we believe in offering our customers options and the opportunity to find the perfect product for their dreams and budget. We strive to provide top-quality window treatments to the entire area. Our window covering options include manual and automatic treatments from Hunter Douglas, Comfortex, Norman® Blinds, ALTA, and Fenetex®. Our team has over ten years of experience in the window covering industry, and we are always available to help you decide which of our fantastic products is right for you.
You can visit our showroom at 132 Marketplace Avenue, Mooresville, North Carolina, 28117. You can also call us at (980) 689-0808, text at (980) 294-3935, or reach out to us online to set up a consultation. We also offer free in-home consultations. Speedy Shades is a locally owned and operated company. We proudly serve the greater Charlotte area, including Mooresville, Davidson, Denver, Cornelius, Huntersville, Concord, Statesville, and Sherrill's Ford, North Carolina.